*************************************************************
Khaman
I was impressed by
Pooja's Khaman recipe
,and wanted to give a try, I never tried making dhokla/Khaman. But,as it was very simple and easy with
Gits Instant Khaman Mix
. Thank you Pooja for detailed recipes, it really came out very nice and spongy :) !!
So, here it goes..
Ingredients
1 pack of Gits Instant Khaman Mix.
2 tsp Oil
240 ml Water
Tempering
2 tsp oil
1 tsp Mustard seeds
3-4 Green chillies
pinch of Asafoetida powder
Method
1. In a bowl take 2 tsp oil, instant khaman mix and exactly 240 ml or 8 Oz. of water. Mix all together very well so that there are no lumps left.
One more point to noted as mentioned by Pooja : To make Khaman more spongy take care to mix these all with minimum possible stirring. As this will left the bubble in the mixture which helps great to make it more spongy. Stirring too much will reduce the bubbles.
2. Pour this batter into a well greased backing trays. I used pressure cooker and one cooking pan to make Khaman, without whistle.
3. Steam cook it on high flame for 15 minutes. To check whether it it cooked do insert a knife/tooth pick, if it comes out clear (as we do to check whether the cake is baked or not, same way :)!! ), its cooked.
4. Now, let it cool for 5-10 minutes.
5. Meanwhile heat a pan add oil, When oil heats up add asafoetida, mustard, green chillies. Pour this over the Khaman.
6. Cut into the desired shapes and serve with sweet/hot chutney. Can have it without chutney too....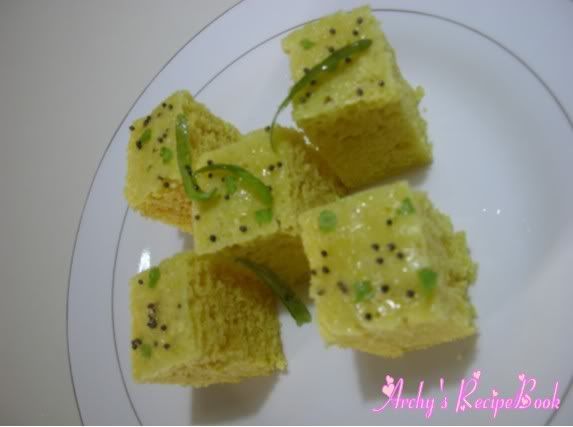 Khaman with sweet chutney...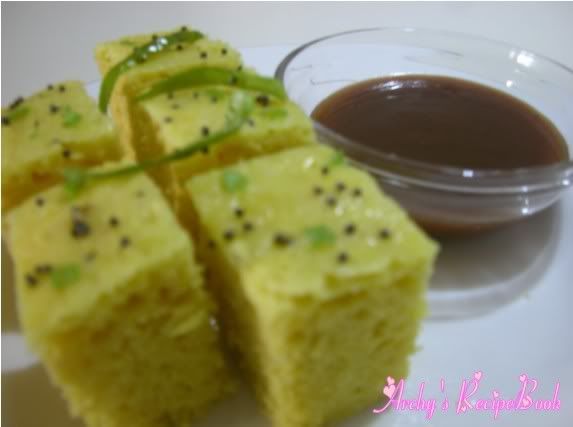 One more view...