*************************************************************
Green Gram Green Dosa
This Green Gram is also called Moong/Mung Dal/Bean. This is easy simple dosa, no fermentation needed.
I'm sending this dosa to
Srivalli's - Cooking 4 all seasons
, for her dosa mela..
If you want to try something different dosa without fermentation, quick.. Here's the recipe..
Ingredients
1 cup Rice
1 cup
Green Gram
1/4 cup Coconut grated
3-4 Green Chillies
1 tsp Ginger chopped
Salt as per taste
Method
1. Soak rice and Green gram overnight.
2. Next day grind rice, green gram, coconut, chillies, ginger all together. Grind it to a smooth paste. At last add salt.
3. Heat the tava and make dosa. Dosa comes out soft and with tiny tiny wholes like the normal dosa without fermentation :) !!
4. Serve this dosa with ghee, pickle or Chutney. I like to have this dosa with honey :P !!
Note: You can also add some chopped onions on the top of the dosa as soon as you pore the dosa batter, fry only one side of the dosa.
Here it come...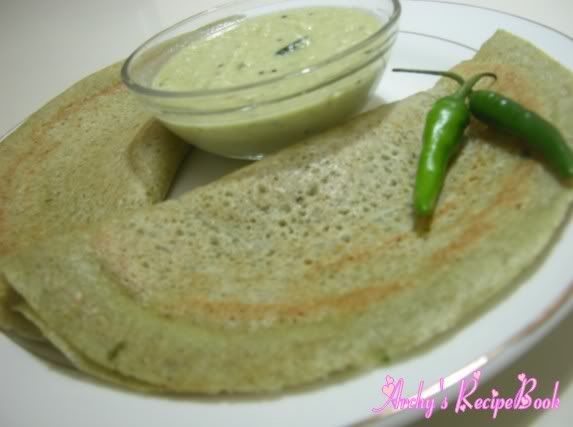 This goes to Srivalli's..