*************************************************************
Hagalakai Gashi(Bitter Gourd Curry)
I'm back with my mothers traditional recipe for bitter gourd. Bitter Gourd is called 'Hagalakai' in Kannada, 'Gashi' means thick gravy. This is one of my favorite dish, its bitter sour and sweet. My mother makes this dish in any special ocassion, we use it as a pickle except me :) !!
Sunday was our New Year Day - Ugadi, so this time wanted make the menu what my mom used to cook on this day. This bitter gourd dish is one of that, Which i want to send it to
Pooja's VOTW - Bitter gourd
.
Recipe is as follows..
Ingredients
1 cup Bitter Gourd
1/4 cup Jaggery
2 tblsp Tamarind paste/pulp
Salt as per taste
To Grind
1/4 cup shredded Coconut
1/2 tsp Cumin seeds
1 tsp Coriander seeds
3-4 Whole Red Chillies
1/4 tsp Turmeric
Tempering
Tempering
1 tblsp Oil
1/2 tsp Mustard seeds
1/2 tsp Urad dal
Curry leaves
Method
1. Cut the Bitter gourd and wash it in salt water.
2. Add tamarind paste, salt, little water to bitter gourd and pressure cook until 2-3 whistles.
3. Mean while fry cumin, coriander seeds, chillies in 1/2 tsp of oil.
4. Grind coconut, fried spices, turmeric until a smooth paste.
5. In a pan heat 1 tblsp of oil, mustard seeds, urad dal, curry leaves.
6. Add the grounded paste to the tempering, 3-4 tbsp of water and cook for 2-3 minutes.
7. Now add the pressure cooked bitter gourd and jaggery, salt.
8. Now cook it for 5-7 minutes. Bitter gourd curry is ready.
Note:
1. U can add more or less water depending on the thickness of the gravy.
2. Dont forget to drain the bitter gourd from the pressure cooked water, to avoid bitterness.
Here is my mothers Hagalakai Gashi..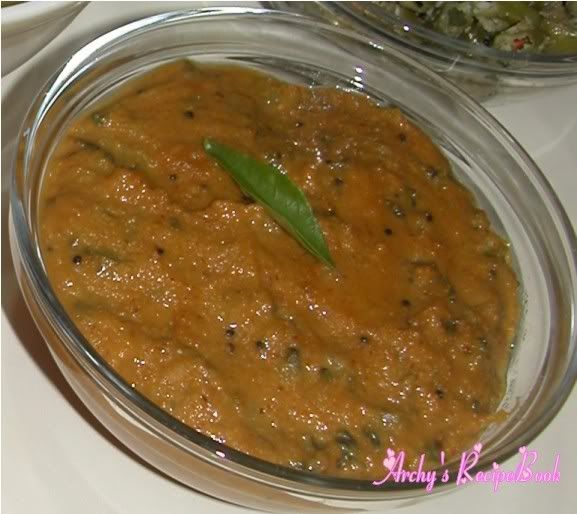 It goes to Pooja's..