*************************************************************
PALAK / SPINACH RICE
Palak rice is what I came to know from one of my friend. This is simple as no much varities of vegetables in them. The smell and the taste of palak leaves itself is just enough to make this recipe yummy :)!!...
I wish to send this recipe to
Meeta's - What's for lunch, Honey?
for the event Monthly Mingle -
One Dish Dinner
. Thank you for hosting this event Meeta. Enjoed it !!
I'm not keeping well from past two weeks... so was not able to post recipes on a regular basis...:( and check my blog buddy's recipes.. !! I miss blogging a lot because of my weekness.. Hopping to get well as soon as possible !! so that I can continue blogging and cooking... :)!!
Here is my Palak rice version.. enjoy !!
Ingredients
1 cup Basmathi Rice
1/2 cup of Palak/ spinach leaves chopped.
1/4 cup Potato cubes
1 medium size Tomato cubes
1 onion sliced
1-2 Clove, Caradamon, Cinnamon stick, Bay leafs
1/2 tsp Cumin seeds
1 tsp Red Chilly powder
1/2 tsp Tumeric powder
1/2 tsp Garam masala powder
1 tsp each of ginger and garlic paste
2-3 tbsp oil
Salt as per taste
2 cup Water
Method
1. Heat oil in the presser cooker. Then add the spices,cumin seeds, ginger garlic paste, Onion, fry them for 1-2 minutes.
2. Now add the chopped spinach and basmathi rice and again fry for 1-2 minutes.
3. Later add cubed potatoes, tomatoes, chilly, turmeric , garam masala powder, salt and water and pressuer cook untill 2 whisle.
4. Palak rice is ready to be enjoyed with salad or curd....
Note : Adjust the spices and masalas as per your taste.
Here is Palak Rice with curd and Salad !!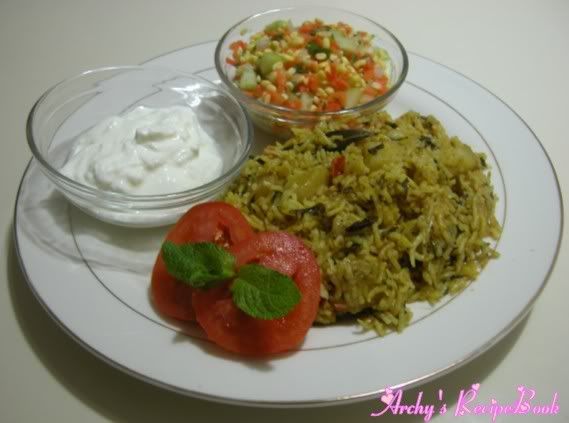 This goes to Meeta's - Monthly Mingle "One Dish Dinner"