*************************************************************
Anniversary wishes to Mommy Daddy with Love and Corn Delight
Hi friends, today is my Parents 25th Wedding Anniversary... So this post is to my parents..My mother always had a wish of putting there snap in a local paper i.e Udayawani, as she used to see others couple celebrating there 25th wedding anniversary,as there son or daughter used to wish there parents. I'm not able to do that, but just trying to fulfill my mothers wish, by wishing through my blog, not only the local people,all over the world can wish on there Anniversary !! I'm missing the function back home, but thought of sharing with my blog friends...as i don't want to miss !!
HAPPY 25th WEDDING ANNIVERSARY MOMMY DADDY.. LOVE YOU ALWAYS...
Miss you..:) !!
Click play to play the E-card...
Celebrating my parents anniversary with this sweet dish..
CORN DELIGHTIngredients
1 cup Corn flour
2 cup Milk
1 cup Water
1 cup Sugar
2 tsp Ghee
2 tsp Custard powder
1 tsp Cardamom powder
1 tbsp Pista chopped
Method
1. Mix the corn flour, custard powder in water.
2. Mean while heat the milk, in thick bottom pan.
3. When milk starts boiling add the corn flour mixer, Sugar, Ghee and keep on stiring. As the corn flour starts thickening.
4. At last add caradamom powder. Transfer the mixer in a grease plate,granish with chopped pista and allow it cool for about 1 hour, cut shapes of your choice.
Corn delight is ready to be eaten.. !!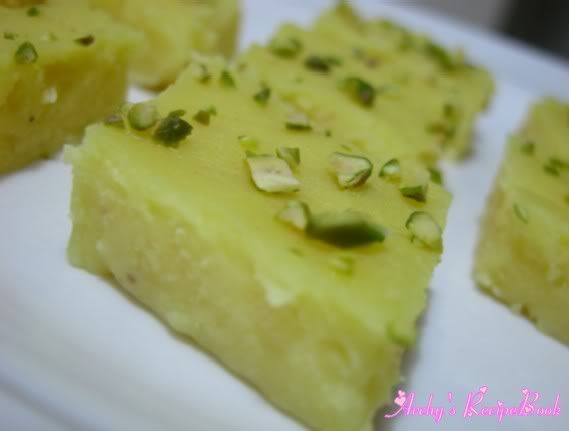 I'm sending this corn delight to
Live Strong Yellow
. Thanks Barbara for hosting this event :) !!