******************************************************************************

Goli Baje
Mangalore every restaurant will have it as a default snack, freshly made and served during evening tea time. 'Goli' means round shape and 'Baje' means deep fried in oil. Its slighty crispy outside and soft inside, name itself is so attractive, kids will surely love it. Being a Mangalorean, loved to eat it when my mother used to make it as a evening snack. Me and my brother named it as 'Amoeba' because of it shape. Its difficut to get a perfect shape of this baje, shape differ from one another as they puff up when deep fried. It was fun making an eating during childhood.
Here is how my mother make these goli baje, she make it little bit sweet. As it can be made sweet or savour. This goes to Sia's event for
RCI-Udupu & Mangalorean Cuisins
, event started by Lakshmi of Veggie Cuisins
Ingredients
3/4 cup Maida/ All purpose flour
1/4 cup curd
3-4 tsp sugar
1/2 tsp green chilly chopped
1/2 tsp ginger chopped
pinch of Baking soda
Salt as per taste
Oil for deep frying
Method
1. In a mixing bowl, mix in the curd, green chilly, ginger, sugar, baking soda and salt.
2. Now add the flour and mix them without any lumps in it. Batter should be the consistency of the pakoda batter. If its thick add some water.
3. Keep it aside for two hours.
4. Heat oil in a deep frying pan. Take the batter with fingers or using a spoon and drop them in the oil. Take a small amount at a time they will increase in size like urad daal wada's.
5. Deep fry it they are golden brown. Serve hot.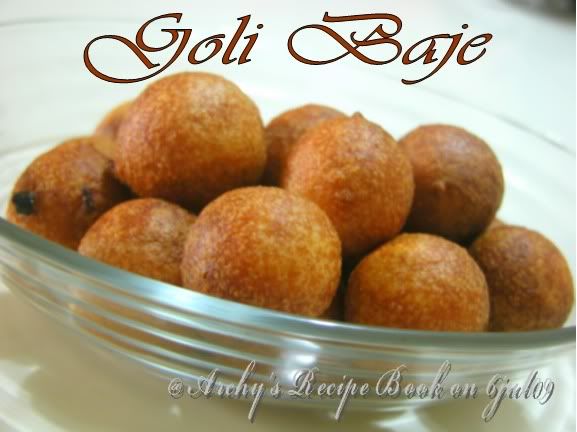 Goes to
Keep visiting for more recipes from my home town :)!!