*************************************************************
Elekosu(Cabbage/Pattagobi) Rotti(Roti)
Bored of cabbage wadas, can try making this rotti with cabbage. I learnt this from my MIL when first i had it, wow i was in love with it. When ever i see cabbage in the vegetable rack, first thing that comes in my mind is this rotti. Rice gives the crispyness to this, with spicy chilly and milky coconut taste with sweet and sourness from jaggery tamarind, When all mixed together with cabbage heaven :) !!
Usually make this elekosu rotti,as we both like it very much. Can be served as side dish or evening snack or as a appetizer. Need to have a bit more paitence as it takes a bit long time for pan frying to get crispy texture.
Sending this to
1. Aparna of My Diverse Kitchen for food in Orange.FIC started by Harini of Tongue ticklers.
2. Chitra Amma's Kitchen for the event Kitchen Masterpiece.
Ingredients
1/2 to 3/4 cup finely chopped Cabbage
2-3 tblsp chopped Onions
2 tblsp chopped Cilantro
salt as per taste
Oil for pan frying
To grind
1/4 cup long grain rice( Soak in water for 2 hours)
2-3 tblsp grated coconut(fresh/frozen)
2-3 Dry red chillies
1/2 tsp tamarind
1/2 tsp jaggery/brown sugar
pinch asafoteda(hing)
Method
1. Soak rice in water for around 2 hours. Now grind rice+coconut+red chilly+tamarind+jaggery+hing to a thick paste adding little water 2-3 tblsp.
2. In a bowl mix cabbage+onions+cilantro+grinded paste+salt. Make a thick batter, keep a side. When salt is added to the vegetables water starts coming out. So do add little water while grinding.
3. Heat a tava, spread some oil and now take a handful of the roti mixer an spread them on the hot tava using fingers.Top some more oil,Fry till they are crispy, takes a bit long time as the water has to be absorbed and become crispy.
4. Turn over the rotti, and fry for few seconds. Fry both the side of the rotti, to get nice crispy Elekosu rotti.
5. Serve with some Rice, sambar/dal, or as a evening snack. Good at any time :) !!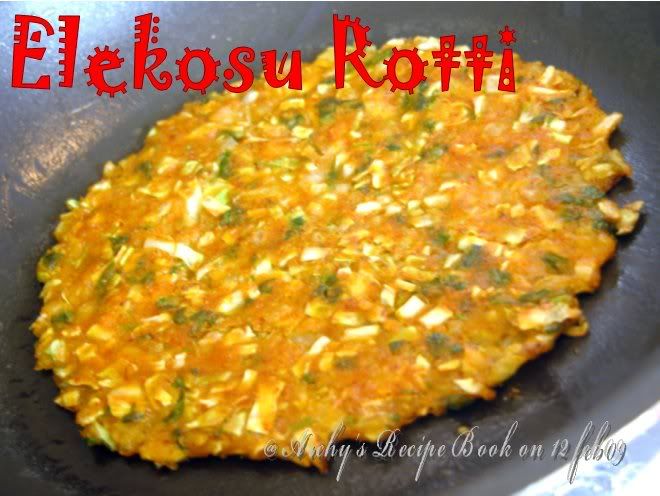 Goes to..