*************************************************************
Sesame Ladoo for Makara Sankranthi
Makar Sankranti is one of the most auspicious occasions for the Hindus, and is celebrated in almost all parts of the country in myriad cultural forms, with great devotion, fervour & gaiety. It is a harvest festival. It is the day when according to the Hindu astronomy the sun enters the rashi (zodiac) of Makara (Capricorn). Makar Sankranti is perhaps the only Indian festival whose date always falls on the same day every year i.e. the 14th of January. Makar Sankranti is celebrated in the Hindu Calendar month of Magha. There is another significance of this day, after this day, the days start becoming longer & warmer, and thus the chill of winter in on decline.

Belated Makara Sankranthi wishes with this seasme ladoo recipe :) !! I still remember those days, when i used to get all the ingrediants from the store previous day of sankranthi,for pre prepration for the ellu bella and Sesame ladoo. Last year i posted Ellu bella recipe, so this time Sesame ladoo. In kannada its called 'Ellu unde' means sesame ladoo.. :) !!

I Wish to send this ladoos to Priti's event Festive Food-Makara Sankranthi


Ingredients

11/2 cups sesame seeds
1/4 cup dalia/dalya/roasted gram without skin slightly roasted
1/4 cup peanuts roasted, unskined and splited
1-2 tbsp ghee
1 1/4 cups jaggery/brown sugar
1/2 tsp cardamom powder, freshly ground


Method

1. Roast sesame seeds in a low flame, till the color changes slightly. Keep aside.
2. Now heat a thick bottom pan with ghee in it.
3. Add the jaggery in it, keep stiring till bubbles are formed and it is golden in color.
4. Its time to add sesame, peanuts, dalia, cardamom powder and mix well. Switch off the heat, let this mixture stand for 3-4 minutes as its very hot!!.
5. Apply some ghee to both the hands and make ladoos of perfered size. Its better to make ladoos when the mixure is of tough able hot. Orlese it will be difficult to make ladoos.

Here it comes..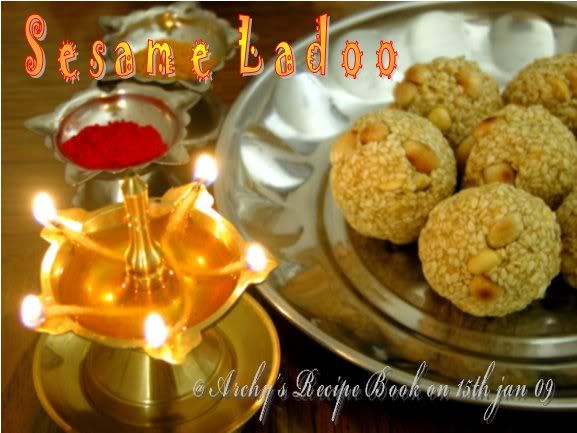 Goes to Priti's...