*************************************************************
Happy Makara Sankranthi
Sankranti is a national festival in India. The word is derived from sat and kranti, meaning "good movement." The festival takes place when the sun moves from Dakshanayanam to Uttaryanam. For the festival celebrated in:
North India, as Makar Sankranti.
Andhra Pradesh ,Karnataka, as Sankranthi.
Tamil Nadu, as Pongal.
Punjab is celebrated as Lohri & Maghi.
Gujarati's not only look reverentially up to the sun, but also offer thousands of their colorful oblations in the form of beautiful kites all over the skyline.
Wishing Happy Makara Sankranthi... Which brings Happiness, Joy, Warmth to you and your family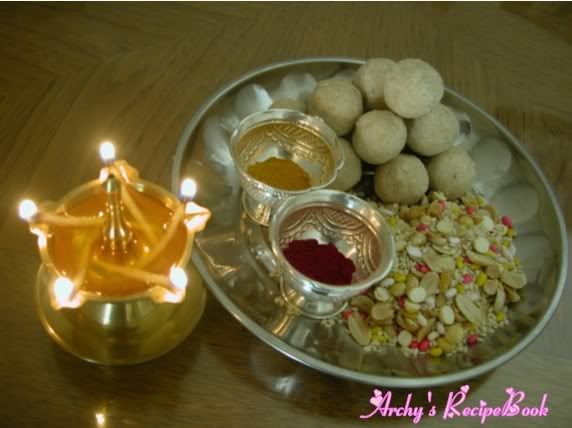 Here is what i prepared Ellu bella with Wheat flour ladoo on Sankranthi day !!
Ellu Bella
This Ellu Bella is kannada name which means Ellu= Sesame and Bella= jaggery...
This is a traditional recipe prepared spcially for Sankranthi day. My mother used to make this, I love it. :)...!!.
So here is what my mother used to make on Sankranthi day and give it to all our friends and family members.
Ingredients
1/2 cup Peanuts
1/2 cup Chana Dalia / Putani (kannada)
1/2 cup Sesame seeds
2-3 tblsp Jaggery cut into small pieces
2-3 tblsp Sugar coated Fennel or Cumin seeds
2-3 tbsp Dry coconut cut into small pieces
Method
1. Fry the peanuts, Dalia, Sesame seeds.
2. Remove the skin of the peanuts and split them into two.
3. Mix up all the above ingredients and serve.
Closer view of Ellu Bella...