*************************************************************
Meme and Award Time
Raagi
of
Raagi's Kicthen
and
Sireesha
of
Moms recipes
tagged me for sharing seven things about me. Hope all enjoy seven things about me..
Here are the rules
(a) List these rules on your blog.
(b) Share 7 facts about yourself on your blog.
(c) Tag 7 people at the end of your post by leaving their names as well as links to their blogs.
Here it comes..
1. I'm from Mangalore, Karnataka but now in Kansas, US a housewife.
2. I'm talkative, one of the plus point I make friends very soon and love making friends :)!!. And as my friends say I have a Smiling face.. and as my brother says I don't know to smile but laugh :D!!.
3. I love cooking.. specially some new dishes.. So my husband is lucky right he gets to taste all new dishes I try ;)!!.
4. I like and wish to learn new things in life.. what ever it might be, So that somebody ask for something i should know in advance.
5. My hobbies.. Cooking, Painting, Arts & Crafts, Stiching, Singing, Dancing, Embroidery, Mehendi, Reading Recipe books, Blogging & browsing.
6. I take things as it comes in a positive way without any expectation.
7. Last but not the least 'Love and care my family and friends'.
I wish to tag..
Paru
Suma
Srileka
Cham
Usha
Pearlsofeast
Uma
AWARD TIME
Paru
and
Srileka
as passed on to me Good Job Award. Thank you Dear both of u for thinking of me for this wonderful award. Thank you !!

Wish to pass on to..
Suma
Cham
Pearlsofeast
Uma
My frined
Suma
as send to me this friendship award.. Thanx a lot Dear !!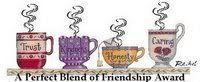 I wish to send this Friendship award to all my blog buddies who encourage me with ur sweet words and my new buddies..
Paru
Srileka
Raaji
Priti
Enjoy ur Award...