*************************************************************
MAVA KACHORI/ MAVA MALPUA
I was searching for rajasthani recipe luckly found this sweet recipe in
Taradalal
recipe site. I tried my level best to get the shape of Mava Malpua, hope all like it.
This is mava kachoris are famous in Jodhpur. Rich dry fruit and mava (khoya) stuffed crisp deep fried kachoris are coated in sugar syrup. These kachoris are a welcome treat at any time of the day. These sweet kachoris are often called "Gujjias" and are a "must have" for the Holi festival. Can store these for several days in an air-tight container.
I'm sending this to
Padmaja's - Spicyanna
for
RCI - Rajasthan
. Thank you making me try Rajasthani recipes. Enjoyed participating.
Updated :
I'm also sending this Mava Malpua to
Easy Craft's
-
Think spice - Think Caradamom
. I came to know today, so just sending my entry. Easy Craft thank for the event.
I used half of the quantity, depends on the size and shape we make the dough. I made a small size malpuas. These are the measurement given in Tarladalal site. So,here it goes..
Cooking Time : 30 mins.
Preparation Time : 15 mins.
Makes 6 kachoris.
For dough
1 cup plain flour (maida)
2 tablespoons melted ghee
a pinch of salt
ghee or oil for deep frying
For Filling
1/2 cup (750 grams) khoya (mava), grated
5 to 6 almonds, sliced
5 to 6 pistachios, sliced
1/2 teaspoon cardamom (elaichi) powder
1 tablespoon sultanas (kismis)
1 tablespoon sugar
a few saffron strands
For Sugar Syrup
1 cup (200 grams) sugar
1/2 cup water
a few saffron strands
For Dough
1. Combine all the ingredients and knead into a firm dough using enough water. Knead well for approx. 5 to 7 minutes.
2. Allow the dough to rest under a damp muslin cloth for 10 to 15 minutes.
3. Divide the dough into 12 equal portions. Keep aside.
For Sugar Syrup
1. Dissolve the sugar in ½ cup of water and boil the syrup for 4 to 5 minutes.
2. Add the saffron and mix well.
Method
1. Mix up all the filling ingrediants.
2. Divide the dough,roll out each portion of the dough into round shape.
3. Place a portion of the filling in the centre and fload it.
4. Turn the edges of the kachori.(I used a knife to make the edges design).
5. Deep fry the kachoris in hot ghee/Oil over a slow flame till the kachoris turn golden brown in colour. These take a long time to fry as the crust is thick and needs to be cooked on the inside also.
6. Drain on absorbent paper and allow the kachoris to cool slightly.
7. Dip the kachoris in the hot syrup. Drain and keep aside.
8. Serve hot or cold.
Note:
You can even serve these kachoris without dipping them in sugar syrup also.
Here it goes..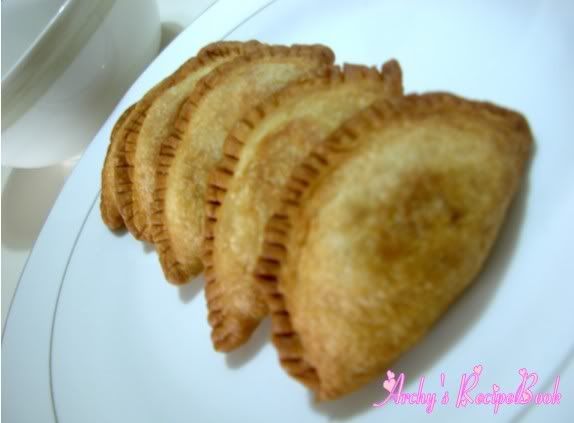 Mava Malpua in sugar syrup...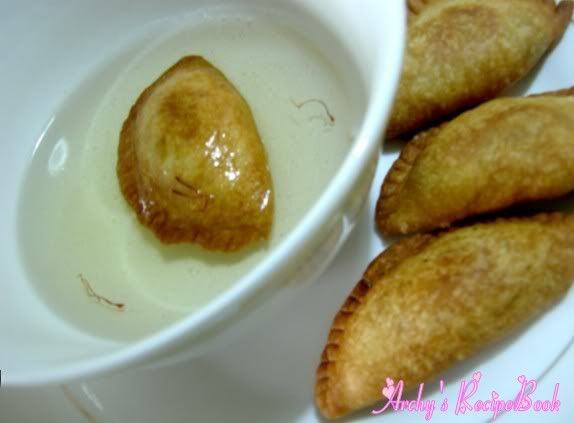 This goes to Padmaja's..
And.. to Easy Crafts..