Cheese Samosa
Samosa is one of my favorite snack. Was just watching Foodfood and came acorss this cheese samosa, which is very easy simple to make. With my lil'one around i just keep cooking looking for easy quick recipes now a days, no option. I made some changes to the original recipe which called for only cheese, i added tomaotes, capsicum as a filling some pizza topping into my samosa. And tunred out to be wonderful. My lil'one loved it, has i made bite size somasas.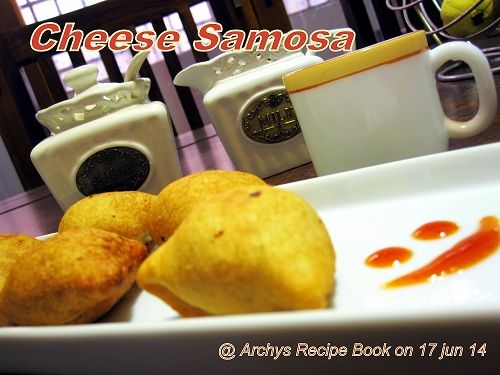 Ingredients for cover

1 cup Maida/All purpose flour
1 tsp Salt
1-2 tblsp ghee
Carom/Ajwain seeds one pinch(optional)
Water as required


Filling Ingredients

1/4 cup Cheese
2 tblsp Tomatoes chopped
2 tblsp Capsicum Chopped
1 tsp Green chilly chopped
1 tblsp Tomaoto ketchup
1 tsp Cilantro chopped
Grounded pepper as per taste
Salt as per taste
Oil for deep Fry


Method for covering

1. Combine plain flour and salt in a vessel. Heat ghee in a pan,Pour ghee over the plain flour and knead firm dough using water
2. Allow it to rest for 15-20 minutes.


Method for filling

1. Mix in cheese,tomatoes,capsicum,chilly, ketchup,cilantro, pepper salt all together.


Method for making samosa

1. Make lemon sized balls of the covering batter,roll the balls into puri sized rotis.
2. Cut the roti into half,Apply water on the edges.
3. Fold the half cut roti into a cone,Stuff the cone with the filling mixture.Seal the edges properly.Make all the samosas in the same manner.
4. Now heat the oil in a kadai.Deep fry the samosas over medium heat till it becomes golden brown in colour.Drain and place on an absorbent paper.
5. Serve hot with some ketchup or dip of your choice.