**********************************************************************
Kadhai Paneer
I'm back after a long break, as we welcomed a new member to our family, my little princess named 'Aaditri'. She is on her 11 months running and me running back to her :)!!. Here are those lil feet..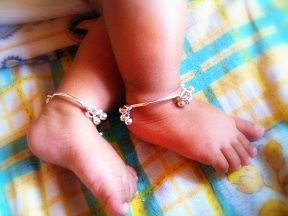 Now a days i keep looking for the recipe which is short in method, were i can spend an hour at most in the kitchen. So here is a very easy quick version of Kadhai paneer which i make quite often when i have capsicum and paneer @ home. I adopted this recipe from Tarladalal recipe book.
Ingredients
1 cup Paneer cubes
1/2 cup Capsicum cubes
1 onion (cut into cubes)
1 tsp Ginger-Garlic paste
1 tsp Coriander-cumin powder
1 Pinch Turmeric powder
1 tsp Red chilli powder
1/2 tsp Garam masala powder
1/2 tsp Kasuri methi( Dry fenugreek leaves)
1/4 cup Tomato puree
1 tblsp Fresh cream
1 pinch Sugar
2 tblsp Oil
2 tblsp Coriender leaves chopped
Salt to taste
Method
1. Heat a Kadhai, add oil - Ginger-garlic paste once golden brown now add onion cubes, fry until transulant.
2. Add capsicum cubes fry for 2 mins, add coriander-cumin powder, turmeric, chilli powder,garam masala, kasuri methi just fry them for few seconds.
3. Now add tomamto puree, 1/4 cup of water, and cook for 2 minutes.
4. Time to add paneer cubes, cream, sugar ,salt and 1/4 cup of water cook for 1-2 minutes.
5. Serve hot, garnish with the coriander leaves.