*************************************************************
Roasted Tomato Salsa
Trying Mexican for the first, i guess need to start with making salsa, simplest-quick-easy. There are wide variety of salsa.This is the simplest salsa to try at home. I made salsa for the first time, and was good. These are roasted salsa in the oven, and just processed in a mixer/food processor. Recipe called for jalapeno chili pepper, but i used regular small Indian chili, it was handy. Have salsa with tortilla chips.

This salsa to going to..
1. Vaishali's event - Its a vegan world - Mexican.
2. Sanghi's event - Fall in Love(FIL) - Tomato



Ingredients

2 large, red ripe tomatoes
1 garlic clove
1 green chili/Jalepeno chili
3-4 tblsp onions
2 tblsp green Capsicum
2 tblsp fresh Cilantro, chopped
1 teaspoon olive oil
1 Tablespoon lime juice
salt and pepper to taste
water 2-3 tblsp (optional)


Method

1. Preheat the oven.
2. In a medium baking dish, place tomatoes, garlic, onion,chili and Capsicum. Drizzle with olive oil.
3. Checking often, bake for 5 to 10 minutes, or until outsides of vegetables are baked.
4. Remove vegetables from heat. Remove and discard tomato cores, jalapeno stem and garlic skins.
5. In a food processor, coarsely chop the vegetables. Transfer to a medium bowl and mix in salt, lime juice and cilantro. Add water if needed, depending on the thickness needed.

Note : I like thick salsa, if needed can add water to it.
I made it in a small quantity, for a trail. This serves for 2 people,makes 1/2 to 3/4 cup of salsa.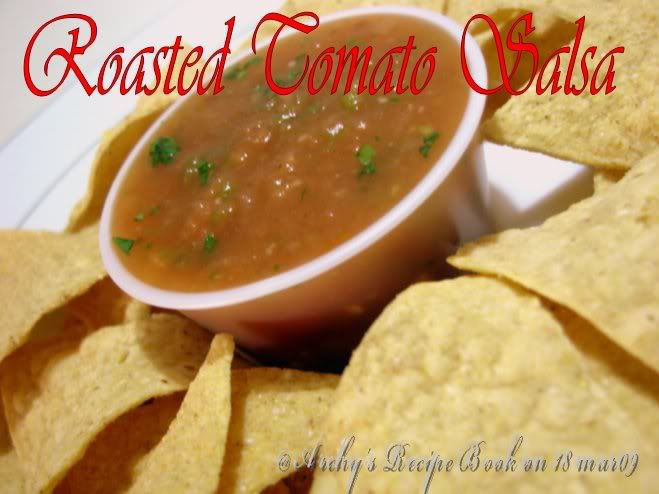 Goes to..