*************************************************************
Avocado Milk shake for 'Click'
The
Avocado
is also known as the Alligator Pear, reflecting its shape and the leather-like appearance of its skin. Avocado is derived from the Aztec word "ahuacatl". Avocado is one among the healthy fruit with benifical fats, vitamins, minerals. I got to this avocado juice from my friend
Sailaja
. Thank you for the lovely drink.
I have made little changes in the milk shake. As these avocados doesnt have any taste or smell.. Just added Vanilla essence.. Yummy !! Lovely drink that all has to try at least once in life time :). I love it, When its tasty and healthy who can reject having :D ..!!
This Avocado milk shake snap is my entry to the
Jugalbandi's - 'Click Liquid'
.
So here comes the creamy yummy Avocado milk shake of Archy's version...
Ingredients
1 Avocado pulp
11/2 cup Milk
1/2 cup Water
4 tbsp Sugar
1/2 tsp Vanilla essence
Method
1. Cut the avocado and remove the pulp using spoon. Its very soft and easy to remove the pulp.
2. Blend the pulp along 1/2 cup water for 1-2 min. While blending it turns to be thick creamy paste.
3. Now add sugar, milk and vanilla essence blend until smooth paste.
4. Creamy Avocado milk shake is ready to be served. You can also refrigerate and have it.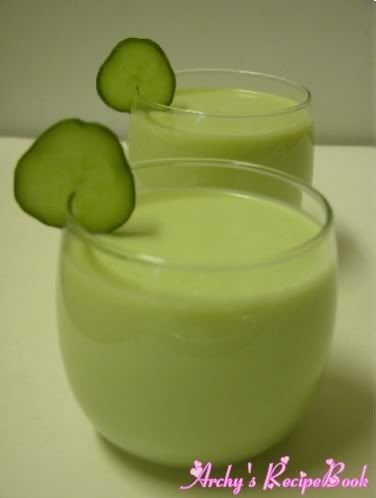 Clicked through Nikon 5700.
This is my 40th post and My photo goes to...