*************************************************************
PINEAPPLE HALWA
As i was searching for a recipe with pineapple. Some thing new so that i can add to my blog.. At last found this recipe.
Delectable flavour of pineapple along with milk an mava gives an rich taste to this recipe. This is very easy and simple and tasty too. This recipe is picked from Tarladala. I made a slight change in this recipe by adding cardamom powder and the quantity of sugar given by Tarladalal.
Enjoy...
Ingredients
1¼ cups thickly grated pineapple
¼ cup grated mava (khoya)
½ cup milk
4 tbsp sugar
1 tsp ghee
A few strands of saffron (kesar), dissolved in 1 tbsp milk
1/2 tsp Cardamom powder
Method
1. Heat the ghee in a non-stick pan, add the pineapple and sugar and cook for 8 to 10 minutes on a slow flame stirring continuously.
2. Add the mava and milk and mix gently.
3. Simmer for 4 to 5 minutes till the milk gets evaporated and the mixture thickens.
4. Add the saffron mixture and mix gently and remove from the flame. Add cardamom powder.
5. Serve hot or chilled.
Preparation Time : 15 mins.
Cooking Time : 15 mins.
Serves 4.
CLoser veiw of Pineapple Halwa..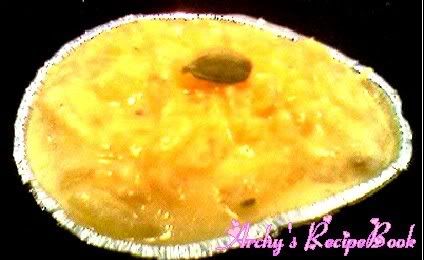 Enjoy this dessert for any ocassion..